THE SCRUMPY SHEPHERD REVIEWS
June 2021. 
"We had a long weekend of complete and utter bliss at The Scrumpy Shepherd. The hut itself is immaculate and has absolutely every thing you need for a getaway – it felt luxurious and like other travellers – we loved the bed and shower! It is beautifully furnished with attention to detail. There were lovely little touches in the hut and orchard with blankets, cushions and fresh flowers. We were also so lucky with the weather and followed the sun from morning till evening in the orchard, and then enjoyed a BBQ and the firepit in the evening (generous amount of firewood provided). There are gorgeous views from every room in the hut and we spotted deer and rabbits from the bed … There are also many walking paths from the hut and we explored quite a few of these – an OS map is provided so that helped a lot finding our way around the countryside. We can recommend The Queen at Brandeston for drinks or something to eat (lovely Sunday roast). Aldeburgh was just a 30 minute drive away but it was really difficult to leave the orchard and hut – it is so peaceful and private and just what we needed for a digital detox. Both birdhouses had little ones and we were entertained by birdsong throughout the day. A big thank you to the owners for sharing this space with others, we cannot recommend it highly enough and hope to be back!"
"It was absolutely wonderful!!! Perfect in fact! And thank you for the prompt deposit return"
"The Scrumpy Shepherd was a lovely place to stay for our weekend away. It's beautifully situated in its own orchard and had everything we needed as well as some extra nice touches, including milk and breakfast left inside. Wish we'd had better weather as we'd have loved to spend more time outside in the lovely surroundings!"
May 2021.
"Perfect for a quick quiet getaway, with only us around."
"Helen & I would just like to thank you for making our short break in the Suffolk countryside so perfect & memorable. We both loved the shepherd's hut & its location. We were so lucky with the weather, so were able to sit outside in the garden each day for breakfast, listening to the birdsong (the song thrush was very vocal) & again in the evening watching the bats/stars, which was fabulous, even though we had to wrap up using the blankets provided as it very cold (in May!!)."
"Scrumpy Shepherd hut met all our expectations – we had a lovely time even though the weather wasn't too kind to us! We had good meals at both the local pubs which are both accessible on footpaths directly from the orchard. We would definitely recommend this place."
"The Scrumpy Shepherd is exquisite, a little piece of heaven. The most beautiful, romantic setting in the orchard with flowers, views and birdsong. The Shepherds hut is finished to the highest standard, oozes quality with attention to detail and everything you could possibly need and I mean everything!"
December 2020.
Another lovely stay in the Shepherd's hut. It's such a cosy place with everything you'd need to have a relaxing getaway. I'm sure we'll be back again
Feb 2020.
The Scrumpy Shepherd is an excellent shepherd's hut set in a lovely little meadow right back from the road and in a wonderfully pleasant location. It's a beautifully finished hut, a little different to others (in a good way!) with the copper piping and it certainly one of the better huts we've stayed in (and we've tried a lot!). The shower is superb – and there's everything required for a pleasant stay. The fire pit is a must – as is dinner at The Queen in Brandeston which was excellent. We'd gladly return
March 2020.
The Scrumpy Shepherd is exquisite, a little piece of heaven. The most beautiful, romantic setting in the orchard with flowers, views and birdsong. The Shepherds hut is finished to the highest standard, oozes quality with attention to detail and everything you could possibly need and I mean everything!
Jan 2020 
A beautifully presented place set in a secluded area. Perfect for relaxing. The welcome hamper and the lovely blankets and chairs around the fire pit make it that bit more special. The hosts are very quick to respond and always polite and helpful. We came in summer but we would love to go back in winter and enjoy the indoor stove!
December 2019.
Sarah and Daniel.   Thank you for a lovely stay, we really enjoyed our 20 minute walk to the local pub over the fields and footpaths. The boots that you lent us were a godsend: Happy New Year!
November 2019.
Thank you Sarah. We gained the peace we needed in your little piece of heaven. What a wonderful place! the first night supper was amazing: you are a very good cook. The whole hut is beautiful, I will never forget my husband's face as we got out of the car and he pointed to the wispy smoke across the meadow in the orchard, coming form the woodburner that you had kindly lit for our arrival. We will definitely return
September 2019.
We were absolutely delighted to have stayed in your beautiful shepherd hut. Everything was perfect. We especially enjoyed the beautiful setting and privacy and felt totally rested after our weekend. Thank you very much for the delicious cake and goodies. We made use of everything and toasted marshmallows over the fire pit.It was my first visit to Suffolk and we are looking forward to returning again soon!
 August 2019
The most amazing place to get away to for a few days! there were so many thoughtful touches: there was a Happy Birthday banner, a home made cake (wrapped in a Happy Birthday ribbon), marshmallows for toasting on the fire pit, a map highlighting where is best to walk to eat and drink and much more. The orchard that the hut is set in is so private, the fairy lights give it a welcoming and relaxing vibe. We fell in love with the whole place, it was cosy and peaceful. We will definitely be booking again so we can have a longer stay, and now our families have seen the photos they are also working out their dates to book!
July 2019
My wife and I spent two lovely nights here this week and absolutely fell in love with it. Secluded and quiet, beautifully furnished, cosy peaceful and idyllic. Our only regret is that we only booked two nights! thank you for letting us stay.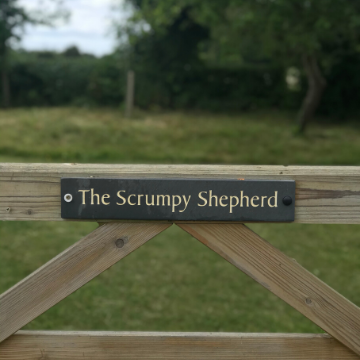 June 2019
I have just returned from a lovely stay at The Scrumpy Shepherd following a surprise birthday weekend for my boyfriend. It couldn't have been better! It's extremely clean, comfortable and cosy and the welcome hamper was a real bonus. It's located in a gorgeous orchard and isn't over looked at all. You really have your own space and can properly switch off. Waking up to the birds tweeting and clean countryside air – nothing can beat that! We met the host briefly who was extremely welcoming and very happy to help. You'd be silly not to stay here, I want to return already!
May 2019
We had a fantastic time in a very special venue. We absolutely loved the accommodation. It felt very special and the orchard was beautifully secluded. We managed to do a lot of walking around the area and have already talked about trying to return in the future. Stunning, would definitely recommend!
April 2019
An absolute magical stay, we didn't want to leave! Toasty and cosy warm, complete privacy, beautiful surroundings, gorgeous interior, delicious fresh food and extra treats and excellent communication too. What a truly unique and special stay. Thank you so much: highly recommended.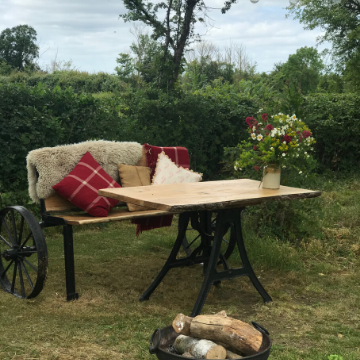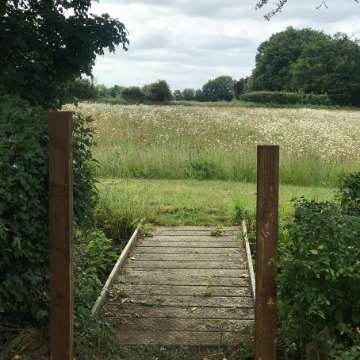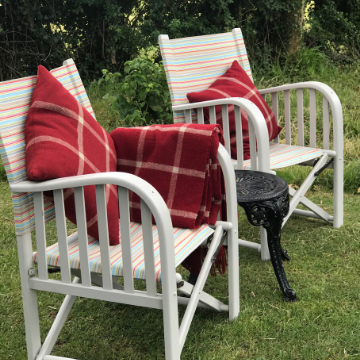 December 2018
Lovely secluded hut with everything you want/need and a few special touches. Great attention to detail- comfy bed, warm shower and wood burning stove. Perfect for a peaceful retreat from the city. When we stayed there were strong winds outside but we barely noticed them in the hut with the fire on… it made it more cosy in fact.
November 2018
Lovely stay with personal touches, such as the handmade sloe gin and freshly baked cherry and walnut cake.The owner Sarah had lit the wood burner before we had arrived. Lovely interior and kept well heated with plenty of hot water for two people- would definitely recommend to friends and family. Thank you
My partner and I recently spent the weekend here and loved every minute staying in this cosy shepherds hut. Our experience far exceeded our expectations. The hosts have gone to great lengths to ensure that you have all the facilities you need and are only across the fields or a call away if help is needed. The facilities are excellent and it is the perfect location for getaway (especially couples). We will be definitely be staying again in the future.
October 2018
My husband and I absolutely loved our weekend here. The fixtures and fittings are top quality, everything is spotlessly clean and everything you need has been thought of. Sarah and Daniel have done a superb job in providing an idyllic retreat for two. The orchard is so peaceful and completely private. We arrived in the dark but could see the festoon lights across the field. We opened the door to the hut and immediately felt cosy with the log burner giving off a gentle heat and gorgeous smell. We catered for ourselves as we simply did not want to leave the perfection of The Scrumpy Shepherd.
We would definitely like to book again.
Amazing weekend getaway. highly recommend this place if you are in the need for detoxing from a busy life. the pictures don't do it justice like most other reviews have mentioned. This place is beautiful, clean and with great hosts.Thank you so much for making our stay beautiful.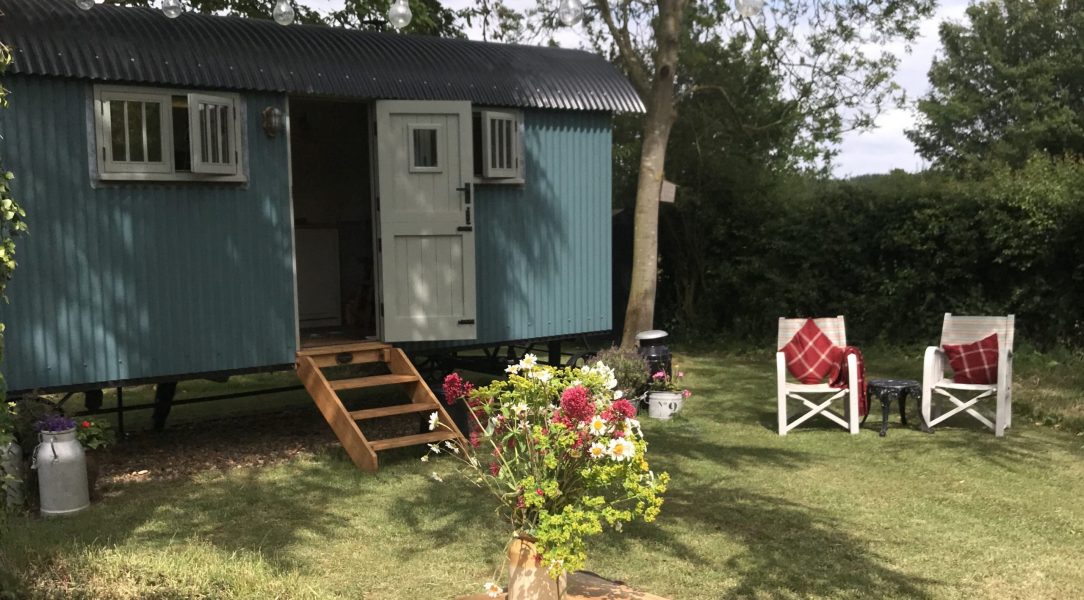 August 2018
We had a wonderful stay at The Scrumpy Shepherd. It's located within a beautifully peaceful orchard with fields to each side, including a field of sunflowers. We saw lots of birds enjoying the orchard as well including a woodpecker!. The hut itself is extremely comfortable and cleverly designed to give maximum space. It has a powerful shower and an exceptionally comfortable bed. Sarah also went out of her way to help us with our questions- recommending a great local walk as well as a lovely seaside town. I can't recommend this place enough- we didn't have the best of weather but the hut was in a perfect location to explore the Suffolk countryside as well as being comfortable place to hide in from the rain!
July 2018
Highly recommend this wonderful Shepherds Hut. thank you so much for making our first two nights as a married couple so special. You went above and beyond and it was a perfect place! So many special touches. A beautiful secluded, romantic and magical spot. Thank you
Thank you for an absolutely wonderful stay! We both feel refreshed and rejuvenated. We haven't done a staycation before, but we have done it in style now! I had also never built a fire or toasted marshmallows over one, so lots of new fun things to do. It truly exceeded our expectations. We would definitely love to come back perhaps in the cooler months so we can enjoy the warmth of the woodburner and a nice hot choccie!
June 2018
The Scrumpy Shepherd Hut is just what we were looking for – perfect country getaway. The hut was clean and more spacious than you would expect. We were even given welcome goodies- the cake was amazing!. The hosts were really friendly and helpful. I would definitely recommend this accommodation.
I just wanted to say thank you for a wonderful stay… we had been really looking forward to coming to Suffolk and staying in your shepherd's hut and it was perfect. It couldn't have been more comfortable or idyllic and the additional welcome pack was lovely. We hope to be back as it was the first time we had been to Suffolk.
May 2018
Superb accommodation and peaceful location. A true gem. Hosts very welcoming and also provided a lovely Welcome Pack.
April 2018
The Scrumpy Shepherd is set in the most picturesque setting. Such attention to detail, and thank you Sarah for being such a wonderful host. I can't wait to return again.
March 2018
The Scrumpy Shepherd is a wonderful place, incredibly well designed and furnished, with more than enough space for two of you. Its super private and I imagine would be fantastic in the summer too.
We could have happily stayed for a week! thanks for hosting us.
February 2018
What a fantastic weekend! tucked away in a parcel of land amongst farmers fields is the Scrumpy Shepherd. Perfect for stargazing and long walks through the Suffolk countryside. We arrived on a cold weekend, but we were warm and snug with the wood burner which kept the hut warm through the night. The hosts were truly lovely and greeted us as we arrived and left a host of treats and snacks.
The hut itself has everything you need, whether you want to cook in, or head out on a short walk across the fields to the pub. Make sure you book in advance for dinner at the pub! Highly highly recommended.
October 2017
Many thanks for a wonderful stay and for the Birthday card and chocolates.
8th September 2017
An enchanting hideaway for a weekend escape, beautifully presented with thoughtful touches, cosy with the log burner.
30th August 2017
This place totally exceeded expectation.Set back from a lovely (silent)lane by an entire field it is situated in its own orchard, with a sunflower field next door.The accommodation is far larger than than expected and beautifully presented. Stunning detail and care provided by our hosts including delicious local sloe gin, choices, marshmallows, flowers in a vase etc.
Choice of barbecue fireball and internal wood burner to get your firelighting glands going.
A genuine lux retreat, deep in Suffolk country.
23rd August 2017
Scrumpy is fantastic. Brilliantly set in a small orchard with instant access to surrounding fields. We saw a wonderful sunrise from the adjacent field. The hut is larger than anticipated and is easily comfortable for two people. The outside area is great for sitting around the fire pit(logs are supplied) or even a BBQ. We were very impressed with Suffolk: it is the rural England of yesteryear, plenty of farming, but plenty of wild land, meadows,woods and numerous fens full of wildlife. We would throughly recommend a stay here
15th August 2017
This place is an absolute find. I came on my own to get away for a few days and it was ideal. You feel completely secluded and yet also in the middle of nowhere. Then waking up to a field of sunflowers outside my window was pretty special. From the beautiful interior of the hut (loved all the copper piping), fairy lights in the orchard, to having marshmallows to toast round the fire, they have thought of everything.
22nd July 2017
One night in the Scrumpy Shepherd is all it takes to wash the stress away…, a quintessential English hideaway in a beautiful spot. Sitting outside under the stars, wrapped in cosy blankets with a string of festoon lights above us, listening to birds as they settled down too, was a wonderful experience. Then the next morning waking to see sunflowers in the field next door nodding and smiling at us as we enjoyed our first cup of tea the fresh milk on our doorstep in the morning was just one of the delightful touches that helped to make our stay so special. We didn't need to light the woodburner inside, but I'm sure it would be fantastically cosy in the cooler months too. The attention to detail was superb. As another reviewer had said -the pictures don't do it justice. We would highly recommend The Scrumpy Shepherd!. A big thank you to Daniel and Sarah for sharing a little patch of paradise with us and for making us feel so welcome.
28th July 2017
What a wonderful place to stay! Peaceful setting the countryside and the shepherd's hut itself is beautifully furnished and equipped. I couldn't have asked for more, I really didn't want to leave. Thank you Sarah for being such a lovely host x

17 July 2017
Sarah and Daniel are the best hosts we have ever come across. Their welcome was amazing and The Scrumpy Shepherd is a fabulous place to stay. The welcome pack included a home baked cake, freshly ground coffee, chocolate, sloe gin etc. The 'Hut' is truly six stars set in an idyllic environment. Top notch fixtures and fittings – absolutely fully thought out with the visitors comfort in mind. The area is beautiful, tranquil yet close enough to coast and lovely Suffolk villages and towns. We are veteran Airbnbers and this is the best yet. The online pictures do not do the property justice! Book with confidence. Thank you Sarah and Daniel Bill and Fiona. 
July 7th 2017
Surrounded by stunning sleepy Suffolk countryside as described on their website this hidden gem did not disappoint. From the moment we drove into the village and out the other side into the rural location we knew we where in for a treat. We had a wonderful weekend exploring the Suffolk coastline; walks through the countryside including their meadows and pub lunches – one day we ended up at The Crown at Great Glenham (fab bar munchies!) The hut itself is nothing like we have experienced before; without a shadow of doubt we will be recommending it to friends and family. Beautiful and practically equipped we could not have asked for more. Designed tastefully and thoughtfully equipped to create a sense of space, you don't feel claustrophobic. The bed was comfortable; the kitchen functional and we selected to buy the additional breakfast basket, which was full of delicious local goodies. The weather was kind to us that we managed to enjoy a romantic Suffolk sunset whilst drinking a glass of vino. Sarah and Daniel, thank you so much for a wonderful weekend in Suffolk you have created something really special.